SEBA– a Swiss-based crypto bank – has recently launched a regulated gold token that customers can trade for physical gold on demand. This offering is the newest product in the company's line up, which includes several new decentralized finance (defi) tokens, as well as new staking and earning services for other digital assets.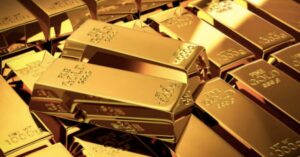 "The SEBA Bank Gold Token is a landmark development in investment products, enabling investors for the first time to own a digital form of physical gold via a fully regulated, cost-effective, and future-proof solution," as stated in an announcement by the Swiss bank.
SEBA's gold token exists as an ERC-20 token on the Ethereum blockchain and can be redeemed for physical gold any time from SEBA bank's partner refineries. The token can also be used as a compliant stablecoin in trading or act as a store of value.
"Asset tokenization allows fractional ownership. Investors can get exposure to the asset without necessarily deploying a large capital. Tokenized gold is also way for crypto investors to move funds to a less volatile asset without exiting crypto or going into stablecoins" says Dimitri Vardakas, Director at DeFi Consulting Group.
The gold token is not the first of its kind to hit the market – other gold tokens already exist, such as the one issued by New York-based blockchain infrastructure company Paxos. However, SEBA's offering brings a very high standard of institutional – grade regulatory compliance to the table.
"As issuance and custody of the token is managed by a Swiss bank with a banking and securities dealer license, the token platform can be trusted by institutional investors to offer a secure and regulated platform for investment," said SEBA Bank's chief executive, Guido Buehler.
Buehler also notes that investors are increasingly looking for exposure to a broader range of assets, including crypto yield products and tokenized assets. "SEBA Bank is catering to this demand and opening access to the gold markets for investors in the form of a regulated, cost-effective and future-proof digital token."
According to Buehler, more token services are due to be rolled out in the coming months.
At DeFi Consulting Group, we advise family offices and other financial institutions on navigating the Crypto Asset and Decentralized Finance space. Reach out to our team for guidance on how to effectively approach this field.
Click here to view the original articles:
Follow us and stay updated with the latest news through our LinkedIn Page too: DeFi Consulting Group